Description
#overview-content.sku-33-316-955 .banner {width:100%; height:71px; margin-bottom:30px; background:url(//images10.newegg.com/BizIntell/item/33/316/33-316-955/hp.jpg) no-repeat left; }
#overview-content .blank20{clear:both;display:block;margin:0;padding:0;width:100%;height:20px;background:none;}
#overview-content .line2{clear:both;margin:20px 0;padding:0;width:100%;height:20px; background:url(//images10.newegg.com/BizIntell/item/33/316/33-316-955/line_spacer.png) no-repeat center center #fff}
#overview-content .bt{ color: #333333;font-size: 30px; font-weight: bold; line-height: 30px; text-align:center}
#overview-content .st{ color: #0096D6; font-size: 22px; font-weight: bold; line-height: 26px; margin:10px 0; border-bottom:#000 1px solid }
#overview-content h3{color: #0096D6;font-size: 15px; font-weight: bold;}
#overview-content ul li span{ color:#D7410B}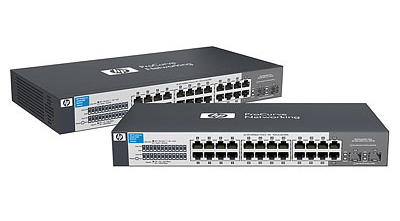 HP 1410 Switch Series
The HP 1410 Switch Series Swicthes are Fixed Configuration, Fanless, Unmanaged Gigabit and Fast Ethernet Switches
Overview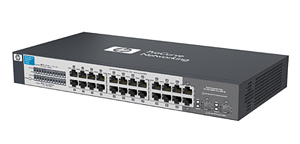 HP 1410 Switch Series comprises unmanaged Gigabit Ethernet and Fast Ethernet switches designed for small businesses looking for entry-level, low-cost networking solutions that come with a lifetime warranty. The series consists of nine models with flexible mounting options to meet different network switching needs. All models have quality of service(QoS) support and IEEE 802.3x flow control features that provide outstanding data efficiency. Simplified plug-and-play convenience is enabled by features such as Auto-MDIX and auto-speed negotiation.
HP has innovated and combined the latest advances in silicon technology to bring you some of the most power-efficient switches: 1410-24G-R, 1410-16 and 1410-24 models are advanced IEEE 802.3az-compliant unmanaged Gigabit and Fast Ethernet switches. The switches come with built-in green features and a lifetime warranty, making the series the right choice for organizations seeking a networking solution that's both economical and reliable.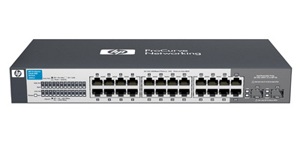 Unmanaged Gigabit Ethernet and Fast Ethernet switches
Green features for low power consumption
Fanless design for silent operation
Quality of service (QoS) support
Lifetime warranty
Features
Quality of Service (QoS)
IEEE 802.1p Prioritisation — Delivers data to devices based on the priority and type of traffic
DiffServ Code Point (DSCP) Support — Allows real-time traffic prioritisation based on Layer 3 TOS/DSCP parameters
Connectivity
Auto-MDIX — Provides automatic adjustments for straight-through or crossover cables on all 10/100 and 10/100/1000 ports
Performance
New

Energy-Efficient Ethernet Support — Supports New IEEE 802.3az standard; allows lower power consumption when operated with IEEE-compliant client devices in 100Mbps mode only (JG708A, J9662A and J9663A switches)
Half- or Full-Duplex Auto-Negotiating Capability on Every Port — doubles the throughput of every port

New

Jumbo Frame Support — Allows frames up to 9216 bytes to be switched through the network (Gigabit Ethernet models)
Mini Jumbo Frame Support — Allows frames up to 2048 bytes to be switched through the network, which supports large data transfers (J9662A and J9663A switches)
Ease of Use
Unmanaged — Provides plug-and-play simplicity
Comprehensive LED display with per-port indicators — provides an at-a-glance view of status, activity, speed and full-duplex operation
Flow Control — Helps ensure reliable communications during full-duplex operation
Auto-Speed Negotiation — Selects individual port speed automatically depending on client capabilities without the need for manual intervention, allowing for simple plug-and-play operation
Flexibility
Fanless Design — Enables quiet operation for deployment in open spaces

New

Internal Power Supply — Provides operation convenience and a neat operation environment (JG708A, J9561A and JD986B switches)
Warranty and Support
New

Lifetime Warranty 2.0 — Advance hardware replacement for as long as you own the product with next-business-day delivery (available in most countries)

New

Electronic and Telephone Support (For Lifetime Warranty 2.0) — Limited 24/7 telephone support is available from HP for the first 3 years; limited electronic and business hours telephone support is available from HP for the complete warranty period.
Learn more about the HP 1410-16G (J9560A)
Model

| | |
| --- | --- |
| Brand | HP |
| Series | 1410 |
| Model | 1410-16G (J9560A) |
Format & Standards
Format
Rackmount
Standards
IEEE 802.1p Priority
IEEE 802.3x Flow Control
Network Management Type

Network Management Type

Unmanaged
Ports & Interface

| | |
| --- | --- |
| Primary Ports | 16 x RJ45 |
| Primary Port Speed | 10/100/1000Mbps |
Details
Buffer Memory

Buffer Memory

512KB
Protocols
HCRP, SPP
Layer
2
Power
Power:
The exact input voltage and frequency rating are determined by the specific power adapter part number ordered. Please select the correct power adapter country option.
Power consumption: 13W
Input frequency: 50/60 Hz
Input operating current: 1.1A
Input voltage: 100-240V AC
Features
Features
Latency:
100MB Latency: < 8.0 µs (LIFO 64-byte packets);
1000MB Latency: < 3.6 µs (LIFO 64-byte packets)

Throughput: up to 23.8 million pps (64-byte packets)

Switching capacity: 32 Gbps
Dimensions & Weight

| | |
| --- | --- |
| Dimensions | 1.73″ x 4.41″ x 8.21″ |
| Weight | 1.43 lbs. |
Additional Information

| | |
| --- | --- |
| Date First Available | March 15, 2022 |
Customer Reviews of the
HP 1410-16G (J9560A)