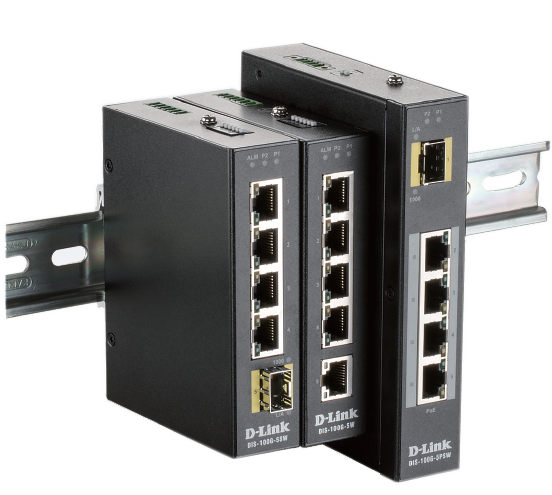 DIS-100G Series
Gigabit Industrial Unmanaged Switches
Highlights
Robust Design
High EMC endurance, fanless design, and a wide operating temperature range combined with an IP30 housing to withstand harsh operating environments.
Flexible Deployment
Plug-and-Play compact form factor design that supports multiple mounting options to allow for flexible and swift deployment.
Power over Ethernet
PoE+ support capable of supplying up to 30 W per port to extend the deployment range of PoE-powered devices in remote areas.
---
Features
Flexible Availability
Available in PoE and non-PoE models
SFP port for long distance connections
Plug-and-Play installation
Robust and High-Redundancy Design
Fanless, passive cooling design
Wide operating temperature (-40 ~ 75 ℃ )
High EMC endurance
Durable IP30-rated housing
Dual power input for redundant power supplies
Fully Certified
Shock – IEC 60068-2-27
Freefall – IEC 60068-2-32
Vibration – IEC 60068-2-6
UL/CE/FCC
NEMA-TS2
EN50121-4 compliant
UL C1D2 compliant (DIS-100G-5PSW)
Advanced Features
Multicast/Unicast/Storm Control
9 KB Jumbo Frame
IEEE 802.3x Flow Control
IEEE 802.1q Quality of Service (QoS) with 4
hardware queues per port
The DIS-100G Series Gigabit Industrial Unmanaged Switches are equipped with a variety of port combinations including 10/100/1000BASE-T non-PoE or PoE ports, and SFP ports. These
switches feature a robust design making them ideal for deployment in industrial and outdoor cabinet surveillance settings, capable of withstanding the harshest environments. In addition,
the DIS-100G Series are Plug-and-Play, allowing for effortless and swift deployment.
Durable, Reliable, and Efficient
The DIS-100G Series switches are housed in a highly resistant IP30-rated metal casing to protect the switches from harsh environmental conditions. The high electromagnetic compatibility (EMC) protects the DIS-100G Series from unwanted effects when operating in environments with strong electromagnetic interference. Meanwhile, the fanless design extends the life of
the DIS-100G Series while also being able to operate in a wide temperature range from -40 ℃ up to 75 ℃ . For increased flexibility, the DIS-100G Series can also be mounted on a DIN rail
or conveniently mounted on a solid surface wall. In addition, the DIS-100G Series supports dual power input which allows for a redundant power supply configuration to make sure the switches continue to operate in the event of a primary power supply failure.
Meanwhile, a powerful IEEE 802.1p Quality of Service (QoS) engine prioritizes network traffic so that time-sensitive data is delivered efficiently, even during bursts of high data traffic. This
helps ensure an optimal experience for streaming critical data such as from surveillance and recognition systems.
Power over Ethernet Support
The PoE-ready DIS-100G-5PSW features a total PoE budget of 120 W, capable of supplying up to 30 W of power per port to connected PoE-enabled devices leveraging existing conventional Ethernet cabling. This effectively cuts down deployment times, reduces cable clutter, and eliminates the need for dedicated power supplies to allow PoE-devices to be installed in
remote locations.
Green Ethernet Technology
The DIS-100G Series features green technology, including IEEE 802.3az Energy-Efficient Ethernet (EEE), link status detection, and cable length detection. Energy Efficient Ethernet reduces the power consumption of the switches when network utilization is low, effectively lowering the cost of ownership during periods of inactivity. Link status detection automatically powers down ports when there is no link detected, saving power when the connected device has been shut down or disconnected. Cable length detection automatically adjusts the power output of the port based on the length of the cable, reducing the power requirements of the switch to only what is necessary for the installation.