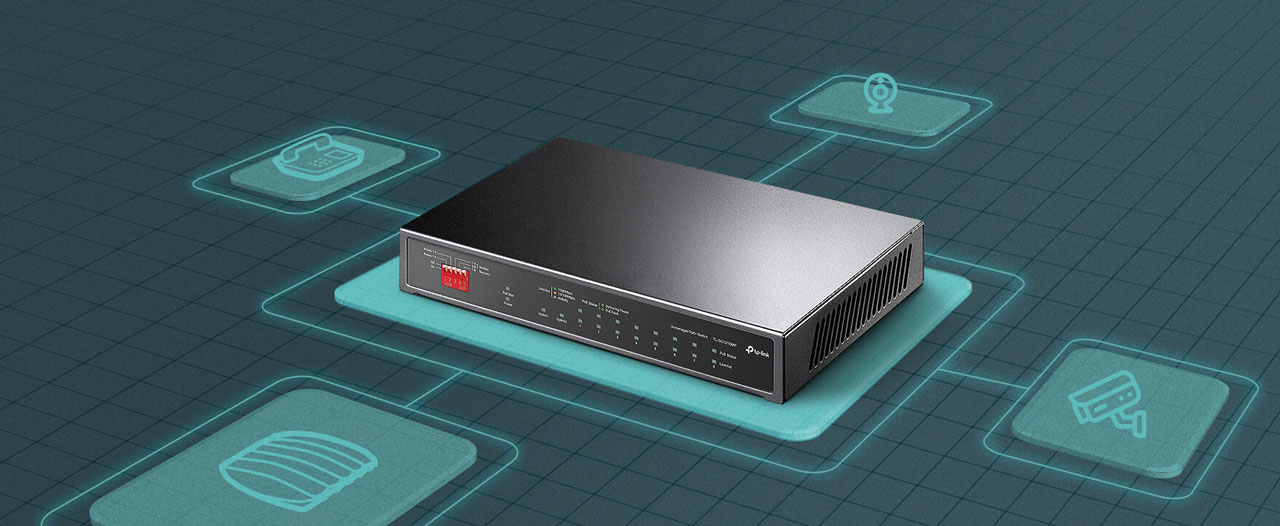 TP-Link TL-SG1210MP

10-Port Gigabit Desktop Switch with 8-Port PoE+

This unmanaged switch is engineered to build a fast and stable network for small businesses and SOHOs. 8 PoE+ ports help streamline setup when deploying Powered Devices (PDs) like APs, IP cameras, and IP phones. Priority Mode optimizes traffic for time sensitive applications. The switch's metal casing is durable and thermally efficient, with fanless design giving you more peace of mind.
9× gigabit RJ45 ports, and 1× gigabit combo SFP/RJ45 Port
8× PoE+ ports transfer data and power via a single cable with a total power budget of 123 W*
Compliant with IEEE 802.3af/at PoE+, the switch supports PoE power up to 30W for each PoE port
Up to 250m data and power transmission range under Extend Mode**
Priority Mode ensures high priority of ports 1–2 to guarantee the quality of the sensitive applications
Isolation Mode allows one-click client traffic separation for higher security and performance
Automatically reboots your dropped or unresponsive PoE-powered devices with PoE Auto Recovery.
Plug and play with no configuration required
Fanless design reduces power consumption and works silently in its location
Professional 10-Port Switch with 8-Port PoE+ (123 W Budget) for Numerous Applications

Compliance with the 802.3af/at PoE+ standard supports up to 30W on each PoE port. The total 123W PoE power budget* for the 8× PoE+ ports opens up to a wide range of applications, such as surveillance for offices, dormitories, and small businesses. It is fully compatible with IP cameras, access points, IP phones, computers, printers, and more.
Keep Your Network Smooth and Safe with Abundant Functions

With extend mode, the PoE transmission distance reaches up to 250m**—perfect for IP Camera deployment in large areas.
Guarantees the quality of sensitive applications like video and voice in critical business areas by prioritizing the data of ports 1-2.
Isolation Mode easily divides traffic for ports 1-4 or 5-8 to avoid snooping/tampering and isolates broadcast storm for higher security.
System Self-Healing with PoE Auto Recovery

The switch automatically detects and reboots the PD devices, such as cameras and APs, when they fall offline or go unresponsive, guaranteeing the stable operation of PoE-connected devices, without the need for manual monitoring and restart.
Durable Metal Casing

The interior components of TL-SG1210MP are protected by high-quality metal casing to ensure a long product life. Its fanless design delivers zero added noise in its locations. Having passed an array of stringent reliability tests, TL-SG1210MP delivers switching performance you can depend on.
Intelligent Power Management

When total power consumption exceeds 123W, intelligent power management will cut the lower priority port power. This ensures the high-priority port's power supply and protects the device from power overload. It also automatically detects and provides the required power for your PoE devices while protecting your PoE and non-PoE equipment from being damaged.
* PoE budget calculations are based on laboratory testing. Actual PoE power budget is not guaranteed and will vary as a result of client limitations and environmental factors.
** The speed of the ports in extend mode will downgrade to 10 Mbps. The actual transmission distance may vary due to power consumption of PoE-powered devices or the cable quality and type.