Thông tin sản phẩm
#overview-content.sku-12-200-738 p {
line-height:21px;
}
#overview-content .l-clear {
width:100%;
clear:both;
}
#overview-content .l-center {
text-align:center;
}
#overview-content .l-left {
float:left;
padding:0 10px 0 0;
}
#overview-content .l-right {
float:right;
padding:0 0 0 10px;
}
#overview-content.sku-12-200-738 .logopart {
height:47px;
margin: 0 auto;
background: url(//images10.newegg.com/BizIntell/item/24/005/24-005-833/logo_031017.jpg) no-repeat left center;
}
#overview-content.sku-12-200-738 .part1 {
height:300px;
margin: 0 auto 20px;
background: url(//images10.newegg.com/BizIntell/item/24/005/24-005-833/b_031017.jpg) no-repeat center center;
}
#overview-content.sku-12-200-738 .line {
height:20px;
margin: 0 auto 20px;
background: url(//images10.newegg.com/BizIntell/item/24/005/24-005-833/i0_031017.jpg) repeat-x center center;
}
#overview-content .subT1 {
font-size: 22px;
font-weight: normal;
margin:0 auto 15px;
color:#0066cc;
}
#overview-content .subT2 {
font-size: 17px;
font-weight: bold;
margin:0 auto 15px;
color:#0066cc;
}
#overview-content ul li {
margin-bottom:7px;
}
NEC 3000 Lumen SVGA Portable Projector – NP-VE303
NEC's SVGA native resolution 3000-lumen VE303 portable projector is designed to provide high brightness for small-to-medium-sized businesses, education environments, corporate conference rooms and mobility applications where heavy ambient light is present but the space requires a small projector. This lightweight model is affordable with essential features, including 3D Ready technology, high-contrast images and a 2W speaker. Its automated technologies—from Auto Power On and quick startup/shutdown to a lamp life up to 6000 hours—make it an eco-friendly choice. The VE303 offers the Intelligent Driving Scheme (IDS2) for increased lamp life and contrast.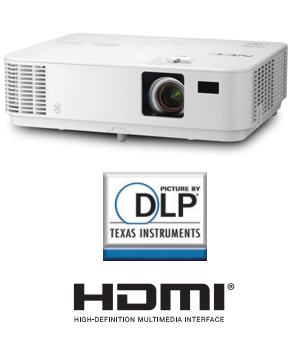 Features
Automatic Power ON via RGB (15-pin) input
BrilliantColor™provides accurate color reproduction
Built-in wall color correction with blackboard setting
Filter-free design reduces maintenance
Optical and digital zoom
Closed captioning
3-D display capable
Vertical keystone correction
Control of projector from PC using Virtual Remote Tool and PC Control Utility
Quick startup/cooling/shutdown minimizes projector setup and teardown time between meetings
ECO Mode™ technology helps extend lamp life and lowers power consumption
Compact size and lightweight design simplify transport
Technologies
3D Ready
When combined with active shutter glasses (NP02GL), this projector uses DLP Link™ technology, developed by Texas Instruments, to create 3D images.
BrilliantColor™
Advanced video processing from Texas Instruments delivers exceptional picture management control for both progressive and interlaced sources, while making images more vibrant, colors more realistic and blacks richer with detail.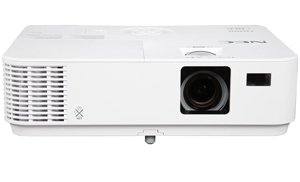 Auto Power On
Powers on the projector as soon as it is plugged into a power outlet.
Built-in Wall Color Correction
Presets provide for adaptive color tone correction to display properly on non-white surfaces.
AutoSense™
Intuitively syncs the projector with most computer signals and features one-touch image optimization.
Benefits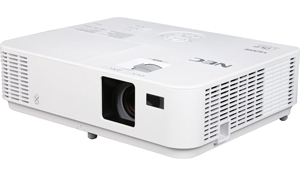 Great Picture Quality and Integrated Audio
High contrast images from the latest Texas Instruments DLP(R) engine
featuring Brilliant Color(TM) provides excellent detail and color accuracy.
Also, features 2W built-in speaker.
Innovative ECO Functions
Extended lamp life with ECO Mode(TM) technology increases lamp life up
to 6,000 hours, while lowering power consumption.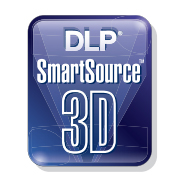 Easy Connections
VE Series projectors are easily connected to computers and AV sources
via HDMI, video, VGA and audio inputs.
SmartSource™ 3D Ready
The projector can support the following 3D formats.
– HDMI 3D
– 120 Hz 3D (only available if your PC can output 120 Hz)
– HQFS 3D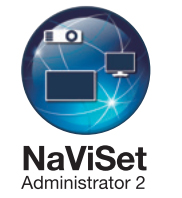 Free download of multi-display management software*
This software is an all-in-one remote support solution that runs from a central location and provides monitoring, asset management and
control functionality for a majority of NEC display devices. It is ideal for multi-display installations over larger infrastructures.
*NaViSet Administrator 2
Throw Distance and Screen Size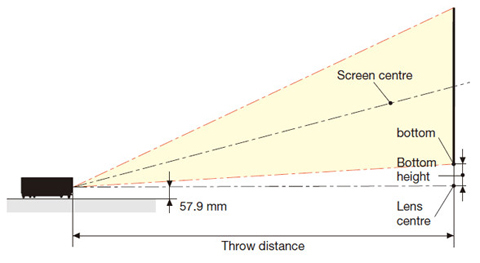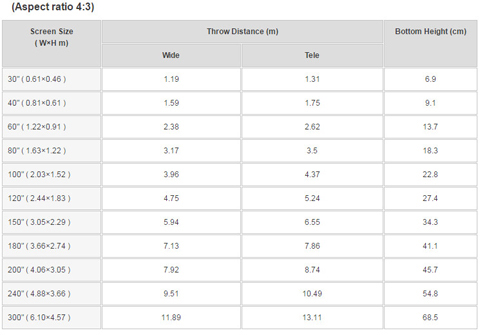 Terminals

Cabinet Dimensions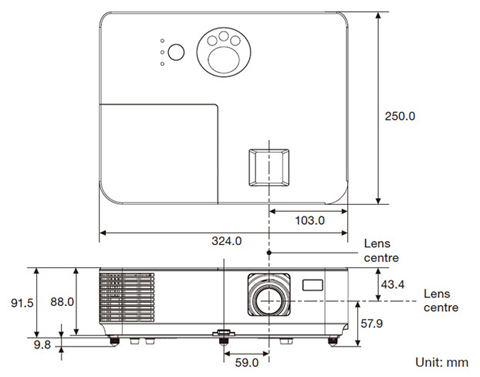 Learn more about the NEC Display Solutions NP-VE303
Model

| | |
| --- | --- |
| Brand | NEC |
| Model | NP-VE303 |
Details

| | |
| --- | --- |
| Cabinet Color | White |
| Type | DLP |
Connectivity

| | |
| --- | --- |
| Input Video Compatibility | Analog RGB, Digital, Component |
| Input Video Connectors | 1 x VGA 15-pin D-sub, Component video using ADP-CV 1E, 1 x HDMI(MHL) w/HDCP |
| Input Audio Connectors | 1 x 1/8 in. stereo |
| Other Connectors | 1 x RS-232, 1 x IR |
Convenience
Built-in Speakers
2W speaker
Compatibility
SD/HD Video Signal Compatibility: 480i, 480p, 576i, 576p, 720p, 1080i, 1080p
PC Signal Compatibility: SVGA, XGA, WXGA, WXGA+, SXGA, SXGA+, UXGA
Macintosh Compatibility: Yes
Sync Compatiblity: Separate Sync / Composite Sync / Sync on G
Power
Power Supply
100-240V AC, 50/60 Hz, 2.5A / 1.1A
Power Consumption
ECO mode off: 237 W / 232 W
ECO mode: 198 W / 192 W
Standby ( Normal): 0.23 W / 0.33 W
Environmental
Temperature Range
Operating: 5 to 40 degree C
Storage: -20 to 50 degree C
Noise Level
34 dB normal / 30 dB eco
Dimensions & Weight

| | |
| --- | --- |
| Dimensions (H x W x D) | 3.98″ x 12.76″ x 9.84″ |
| Weight | 5.73 lbs. |
Additional Information

| | |
| --- | --- |
| Date First Available | July 13, 2018 |
Customer Reviews of the
NEC Display Solutions NP-VE303