Description
>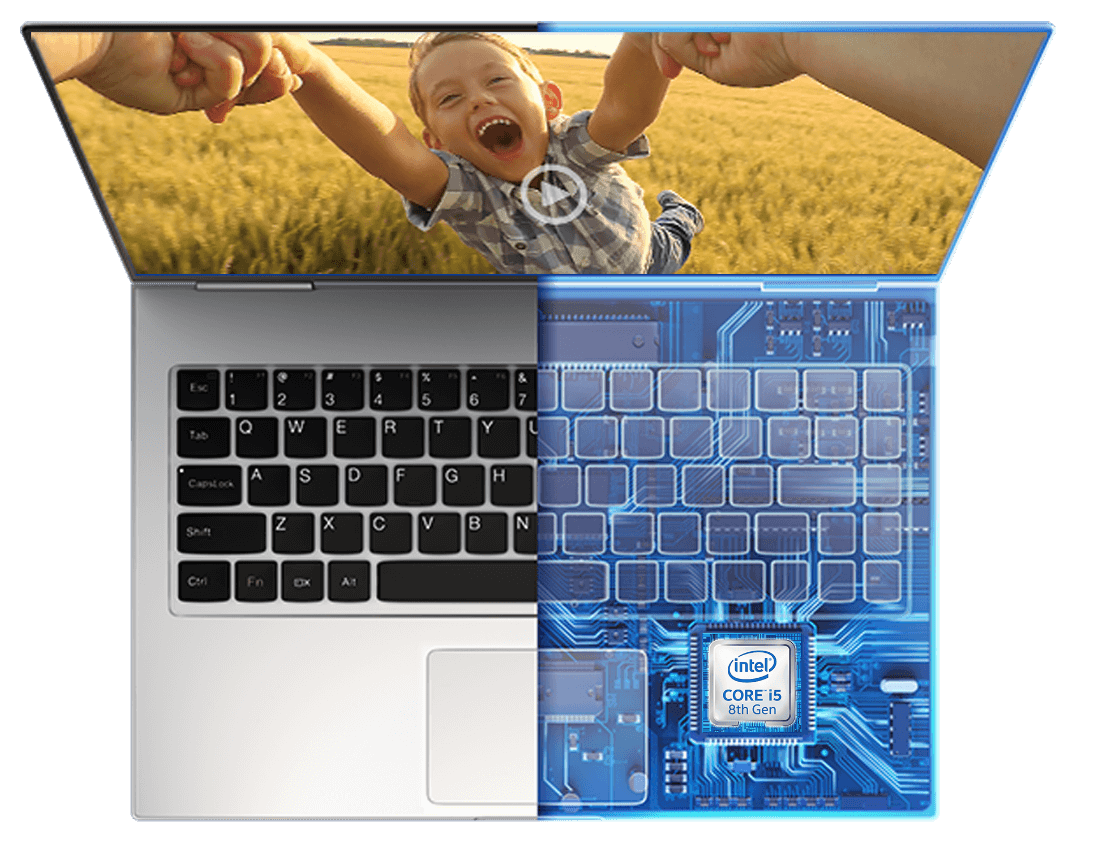 WHAT'S INSIDE
MATTERS
LOOK FOR AN INTEL® CORE™ PROCESSOR INSIDE OVER 1.6 BILLION PCS1
OPTIMIZED FOR
INCREASED PRODUCTIVITY
UP TO
2X
BETTER
OVERALL SYSTEM
PERFORMANCE
with an 8th Gen Intel®
Core™ i5-8265U
processor vs. a 5-year-old PC2

Quickly launch programs

Get more done in less time
CHOOSE THE RIGHT LEVEL OF PERFORMANCE FOR YOU


Enjoy 4K photos and videos



Quickly switch between the programs you use every day


Create and edit content in full HD resolution


Run the most demanding apps for creative and entertainment needs

Get extra performance with Intel® Thermal Velocity Boost

Performance results are based on testing as of Aug. 10, 2018
and may not reflect all publicly available security updates. See
configuration disclosure for details. No product can be
absolutely secure.
Software and workloads used in performance tests may have been
optimized for performance only on Intel microprocessors.
Performance tests, such as SYSmark and MobileMark, are measured
using specific computer systems, components, software, operations
and functions. Any change to any of those factors may cause the
results to vary. You should consult other information and
performance tests to assist you in fully evaluating your
contemplated purchases, including the performance of that product
when combined with other products. For more complete information
about performance and benchmark results, visit http://www.intel.com/benchmarks
1. Based on application processor information for desktop and
notebook unit shipments from January 2010 through June 2018 as
reported in IDC's [10/30/2018] Worldwide Personal Computing
Device Tracker.
2. As measured by SYSmark 2014 SE Overall on Intel® Core™
i5-8265U vs. Intel® Core™ i5-4200U processor, PL1=15W TDP, 2C4T,
Turbo up to 2.6GHz, Graphics: HD 4000, Memory: 4GB DDR3, Storage:
512GB 545S SSD, OS: Microsoft Windows 10 Pro Build 10.0.17134.48,
BIOS: HSWLPTU1.86C.0139.R01.1801190506,MCU: 0x23
3. As projected by 1080P Local Video Playback on Intel® Core™
i7-8565U processor, PL1= 15W TDP, 4C8T, Turbo up to 4.6GHz,
Graphics: Intel® UHD Graphics 620, Memory: 2x8GB DDR4-2400,
Storage: Intel 760p SSD, OS: Microsoft Windows* 10 RS4 Build
17134.112, BIOS: X150.B00.1807031951, MCU: 0x98, Battery: 52WHr,
Screen: 1W Sharp 1080p Panel. Workload is 200 nits screen
brightness and audio in headphones. Battery life may vary
substantially by use, system configurations, and settings.
4. 802.11ax 2×2 160MHz enables 2402Mbps maximum theoretical
data rates, ~3X faster than standard 802.11ac 2×2 80MHz (867Mbps)
Wi-Fi as documented in IEEE 802.11 wireless standard
specifications, and requires the use of similarly configured
802.11ax wireless network routers.
© Intel Corporation. Intel, the Intel logo, and Intel Core are
trademarks of Intel Corporation or its subsidiaries in the U.S.
and/or other countries.
*Other names and brands may be claimed as the property of
others.
This content uses cookies to improve your experience. By continuing, you agree to this use. Learn More at https://flixmedia.eu/privacy-policy/
#flix-privacy-policy {float: right;margin-top:30px;margin-right:20px}
.flix-policytext-container {padding: 55px 10px 10px;}
#flix-privacy-policy-text {
display: none;
background-color: #f5f5f5;
padding: 10px 15px;
margin: 0;
color: #676767;
font-size: 11px;
position: relative;
font-family: Helvetica, Arial ,sans-serif;
}
#flix-privacy-policy-text .flix-privacy-pointer {
width: 0;
height: 0;
border-left: 8px solid transparent;
border-right: 8px solid transparent;
border-bottom: 8px solid #f5f5f5;
position: absolute;
top: -8px;
right: 13px;
z-index: 5;
}
Learn more about the Lenovo S340
Model

| | |
| --- | --- |
| Brand | Lenovo |
| Model | S340 |
| Part Number | 81N8 |
Operating System

| | |
| --- | --- |
| Operating System | Linux |
Graphics

| | |
| --- | --- |
| Video Memory | Shared system memory |
Communications
LAN

LAN

10/100/1000Mbps
WLAN

WLAN

802.11ac Wireless LAN
Bluetooth

Bluetooth

Bluetooth 4.2
Ports
USB

USB

3
Audio Ports
1 x Headphone/Microphone Combo Jack
Audio

| | |
| --- | --- |
| Audio | Integrated Sound card |
| Speaker | Integrated Stereo Speakers |
Input Device
Touchpad
Yes
Backlit Keyboard
Backlit
Webcam

Webcam

Yes
Card Reader
4-in-1
Dimensions & Weight

| | |
| --- | --- |
| Dimensions (W x D x H) | 14.1″ x 8.81″ x 0.76″ |
| Weight | 3.5 – 4.5 lbs. |
Additional Information

| | |
| --- | --- |
| Date First Available | February 04, 2020 |
Customer Reviews of the
Lenovo S340